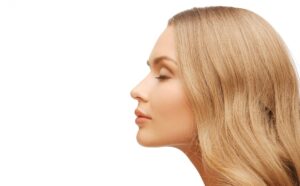 One of the hallmarks of an attractive, youthful face is a well-defined jawline. But due to aging, gravity or genetics, you may not have the naturally chiseled jawline you desire — or your jawline may have changed over time. Thanks to modern aesthetic medicine, you have several treatment options with the team of experts at The Plastic Surgery Center. Our plastic surgeons can enhance your jawline and lower face with surgical or non-surgical treatment.
Surgical Treatment Options
Facelift is the gold standard of facial rejuvenation for the lower face. Excess loose skin and unwanted fat along the jawline are removed, the underlying muscles are tightened and the remaining skin is tightened for a smoother, more defined contour.
If you have good skin tone and elasticity along your jawline but excess fat is creating fullness under your chin, you may benefit from neck liposuction. Unwanted fat is carefully removed from the neck and jawline to reduce the fullness and chisel a leaner contour.
Another surgical option is the placement of a chin implant to enhance a naturally weak or poorly defined chin. If you feel as though your chin is abnormally small or blends into your neck, a chin implant can create a greater demarcation between your chin and neck. Implants are custom fit and molded to your jawline to achieve the look you desire.
Non-Surgical Treatment Options
Dermal fillers are a safe and minimally invasive solution for mild to moderate laxity along the jawline. Injecting a hyaluronic acid-based dermal filler like Juvederm and Restylane along your chin and jawline can replace lost structural support and increase definition.
Kybella is another injectable that can redefine the lower face. Formulated with a naturally occurring substance called deoxycholic acid, Kybella causes the breakdown and destruction of fat cells underneath the chin (known as submental fat). With a series of Kybella treatments, you will see a reduction in submental fullness and your jawline will look more defined.
Generally speaking, you will see the most dramatic and lasting results with a surgical treatment option. A non-surgical option like dermal filler injections can be a great solution if you want to see improvements in your chin and jawline, yet do not have the time to commit to surgery and recovery.
As you consider your treatment options, our team can explain the pros and cons of each to help you decide what is right for your case. Request an appointment with our team at The Plastic Surgery Center today.