What is Rhinoplasty?
Rhinoplasty is a surgical procedure that changes the shape and size of the nose. Also known as a nose job, rhinoplasty can be used to improve breathing or enhance the appearance and symmetry of the nose and face.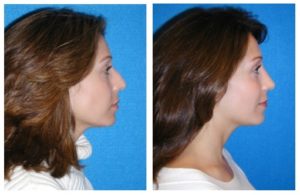 If you are considering nose surgery in Sacramento, the Plastic Surgery Center is here to help. Our talented cosmetic surgeons have over 100 combined years of experience providing plastic and reconstructive surgery to patients in need. Our doctors and staff are highly trained and have provided countless rhinoplasty patients with outstanding results and renewed confidence. Visit our rhinoplasty before and after photo gallery to view results from our previous patients.
How Nose Surgery Is Performed
Rhinoplasty is performed under local anesthesia with either intravenous sedation or general anesthesia. Facial rejuvenation is achieved through incisions that are made to allow your surgeon access to the bone and cartilage that will be sculpted. Depending upon the extent of the procedure, nasal surgery can take from 1 to 2 hours. Prior to any cosmetic surgery procedure, be sure to follow your plastic surgeon's instructions on taking medications and vitamins, eating, drinking and stopping smoking.
What To Expect After Your Rhinoplasty
Tape, a splint and gauze will be applied immediately following your plastic surgery to stabilize your nose. During the first 24 hours, it is natural for your face to feel puffy. Your nose might be painful and you might have a dull headache; medication can minimize any discomfort. Black eyes are to be expected, so plan to stay in bed with your head elevated the first day. Any swelling or bruising can be reduced with a cold compress. Most patients return to their normal routines within about a week, although your nose may remain somewhat swollen and sensitive for the first few weeks. During this time, it is recommended that you avoid strenuous activities that can either risk injuring your nose or raising your blood pressure. Desired results might not be seen until 6 to 12 months.
Call 916-929-1833 now to learn more about medical spa services, facial rejuvenation and cosmetic surgery procedures for both men and women, such as rhinoplasty. Sacramento plastic surgeons at The Skin Care Center and at The Plastic Surgery Center make enhancing the body, mind and spirit easy. With offices on Scripps Drive in Sacramento and in Granite Bay, looking and feeling your best is convenient as well.
Learn More about Rhinoplasty in Sacramento
For top nose surgery results in Northern California, visit the experienced cosmetic surgeons at The Plastic Surgery Center. Our doctors will walk you through your surgery options and discuss the preparation and recovery for the procedure. Schedule a consultation today by calling 916-929-1833 or by emailing us today.