Serving Patients in Granite Bay and Roseville, CA
You've tried to work it off by walking or running. It didn't work. Hopefully, you didn't proceed to throw good money away on fad exercise equipment that's now gathering dust in the garage. If you did, maybe you got so frustrated with the whole thing that you finally resorted to good, old-fashioned sit-ups. It's amazing sometimes how so much work can result in so little noticeable change, at least in the area that you're attempting to sculpt.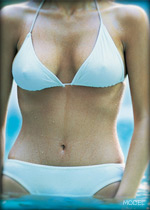 If you've found it all but impossible to completely firm up your abdomen, don't get frustrated and don't give up. All you need are some encouraging words. Here are two: tummy tuck.
If previous weight or multiple pregnancies has stretched your abdominal muscles, or if age has simply caused the skin to lose its elasticity, sagging skin and abdominal fat might not immediately – or, for that matter, ever – respond to diet and exercise, regardless of how dedicated you are to healthy living. When this is the case, as it is for more and more men and women in and around Sacramento, a tummy tuck can help achieve a smaller waist and a firmer, more flattering stomach.
If you're considering a tummy tuck, Sacramento's Plastic Surgery Center can help. Call 916-929-1833 to schedule a consultation today.
What is a Tummy Tuck?
Tummy tuck, also known as abdominoplasty, is a body contouring procedure that tightens stretched and weakened muscles and removes droopy skin, the combination of which dramatically diminishes the appearance of a protruding abdomen. Also known as abdominoplasty, tummy tucks can consistently be found in the top five most popular plastic surgery procedures. When combined with a healthy lifestyle, a tummy tuck's effects can be long lasting.
The Benefits of Tummy Tuck
The most well-known benefit of tummy tuck is a flatter and more attractive contour. Following tummy tuck, you will appear leaner and more toned. Clothes will fit better and flatter your improved contours, likely boosting your self-confidence.
Tummy tuck also has medical and physical benefits. First, removing loose, excess skin makes exercise easier and more comfortable. Tightening the abdominal wall strengthens the core, which can help alleviate back pain and improve posture. Tummy tuck can also correct ventral hernias and improve stress urinary incontinence, two conditions that can occur after massive weight loss, or pregnancy. In addition, many tummy tuck patients report feeling motivated to maintain their flatter and leaner abdomen by practicing a healthier lifestyle (i.e., eating healthily, exercising regularly).
How An Abdominoplasty Is Performed
During a tummy tuck, your abdomen is tightened by first pulling the stomach muscles closer together and then stitching them into a new, more desirable looking position. The result is a firmer abdomen and a smaller waistline; any extra skin and fat are removed. A partial tummy tuck, commonly referred to as a "mini tummy tuck," takes just an hour or two, whereas a complete abdominoplasty takes from two to five hours. Each is conducted under general anesthesia. During your consultation, the Plastic Surgery Center in Sacramento will answer any questions you might have regarding incision size and location. Prior to any cosmetic surgery procedure, be sure to follow your plastic surgeon's instructions on taking medications and vitamins, eating, drinking and stopping smoking.
Full Tummy Tuck
Traditional tummy tuck, also called full tummy tuck, involves creating an incision that runs horizontally across the lower abdomen, from hipbone to hipbone. Through this incision the surgeon will tighten the abdominal wall and remove excess skin. A second incision is made around the navel in order to reposition it higher on the abdomen.
Mini Tummy Tuck
If your trouble spots are limited to the lower abdomen only, you may be an ideal candidate for mini or partial tummy tuck. This less-invasive technique involves a shorter incision placed above the pubic region. No second incision around the navel is made during mini tummy tuck. The procedure tightens muscles and removes excess lower abdominal skin. Because mini tummy tuck focuses on correcting the lower abdomen and requires a shorter incision, recovery is generally quicker than with full tummy tuck. However, results are limited compared to those achieved with full tummy tuck.
What To Expect After Your Tummy Tuck
For the first few days, your abdomen might be swollen, and it's possible that you might feel some pain; medication can minimize any potential discomfort. Although it might be difficult to stand straight immediately following your procedure, you should start walking as soon as possible to promote healing. Stitches are removed in five to seven days, and plastic tubes that drain excess fluid from under the skin are removed in one to two weeks.
Within a few weeks, you'll start feeling better. Some patients return to work around this time. Remember, the better your physical condition, the faster your recovery. Low-level exercise, such as walking, can help reduce swelling, lower the chance of complications and further tone the muscles. You should avoid vigorous exercise until receiving approval from your surgeon. Although scars may appear to worsen during the first three to six weeks, this is normal. Eventually, they'll flatten out and lighten in color.
Tummy Tuck FAQs
How do I know if I need a mini or full tummy tuck?
Generally speaking, you may be a suitable candidate for a mini tummy tuck if your trouble spots are limited to the lower abdomen. If you have severe excess skin and fat on the lower and upper abdomen, you may benefit from traditional tummy tuck. Ultimately, only a reputable plastic surgeon can determine which technique can help you achieve your cosmetic goals.
Will tummy tuck remove stretch marks?
Tummy tuck can remove the stretch marks located on the excess skin that is excised during the operation. This can help the overall appearance of the remaining stretch marks.
Is recovery painful?
Immediately after surgery, you may experience some pain and discomfort, which can be alleviated with prescription pain medication.
Are there risks involved?
All surgeries carry a degree of risk, and tummy tuck is no different. Potential risks and complications include infection, bleeding, poor wound healing, fluid accumulation and unfavorable scarring. Working with an experienced, board certified plastic surgeon minimizes the possibility of complications.
How can I maintain results?
The best way to maintain results is to eat a healthy diet and exercise regularly. Good lifestyle habits such as not smoking and practicing proper sun protection can also keep the abdominal skin firm and toned for years to come.
What is a drainless tummy tuck?
Traditionally, tummy tuck recovery has involved the placement of drains to prevent seroma, or fluid accumulation. The drains are secured to the skin with plastic tubing to collect fluid. They remain in place for the first few days or weeks after surgery.
Although drains are a common aspect of tummy tuck, there are limitations involved. Some patients feel that the drains are uncomfortable to manage, and difficult to conceal under clothing. Even worse, the drains can clog or lead to an infection if not cared for properly.
Drainless tummy tuck is a technique that uses progressive tension sutures to attach the abdominal skin to the underlying tissue. This leaves minimal areas where fluid can accumulate after surgery, eliminating the need for drains and the risks and discomfort that come with them.
Do I need to lose weight before tummy tuck?
Ideal patients are those at or near their ideal weight prior to tummy tuck. Weight should be stabilized for at least six months. Your surgeon will advise you on whether you need to lose weight prior to tummy tuck.
What is the difference between tummy tuck and liposuction?
Tummy tuck focuses on removing excess skin and tightening the abdominal wall while liposuction removes surplus fat that is resistant to diet and exercise. Many tummy tucks incorporate liposuction techniques to remove fatty tissue and deliver more dramatic results.
Can work be done on the breasts as well?
If, in addition to your abdomen, you are bothered by the appearance of your breasts, you may benefit from a breast enhancement procedure. Breast enhancement procedures include breast augmentation to improve the size and shape of the breasts, and breast lift to reposition the breasts higher on the chest wall for a perkier and younger-looking position.
Breast enhancement procedures are often combined with tummy tuck and liposuction for a comprehensive cosmetic treatment called mommy makeover. Mommy makeover is customized to the unique needs of each patient.
Do you offer financing options?
The Plastic Surgery Center does offer affordable financing through M-Lend Financial Services and CareCredit. Please speak to a member of our team for more information.
Learn More About Tummy Tuck in Sacramento
If you are considering an abdominoplasty in Sacramento, visit the elite cosmetic surgeons at The Plastic Surgery Center. Our experienced doctors and staff can provide you with the body that you have always desired. View results from our previous patients by visiting our tummy tuck before-and-after photo gallery, and contact our Sacramento or Granite Bay office to schedule a consultation.
"I had a Tummy Tuck with Dr. Green. I am beyond happy! I feel wonderful and it looks amazing … The entire experience was wonderful. His office staff are caring and knowledgeable and from the moment I walked into the surgery suite I felt safe and was treated with the utmost care. I would not hesitate to recommend Dr Green for any procedure you may be considering." – Tummy Tuck Patient