Large, drooping breasts can be much more than just a pain in the neck; they can cause you to suffer from pain in your back as well as led to skin irritation, grooves in your shoulders, difficulty breathing and even skeletal deformities. Along with the physical discomfort associated with a top-heavy body, many women also feel self-conscious. For all of these reasons, many insurance companies in Granite Bay and Sacramento will cover the expense of your breast reduction.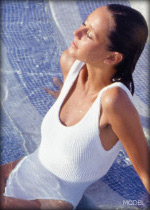 Also known a reduction mammoplasty, breast reduction can surgically reduce the size of your breasts, resulting in breasts that are smaller, lighter, firmer and better proportioned to the rest of your body. If you're considering breast reduction, Sacramento's Plastic Surgery Center can help. Call 916-929-1833 to schedule a consultation today.
Everything You Need To Know – And More – About Breast Reduction
Although breast reduction is a complex surgical procedure, when performed by one of our qualified plastic surgeons, it is safe and effective. Not only can this procedure improve how you look, it also can improve how you feel. Your surgeon may request a mammogram prior to your surgery.
How Breast Reduction Is Performed
Reduction mammoplasty is a 3 to 5 hour surgical procedure typically performed under general anesthesia. During your surgery, excess skin and breast tissue will be removed, your nipples will be lifted and the skin tightened. Liposuction may be utilized in order to remove additional fat on the sides of your chest. Prior to any cosmetic surgical procedure, be sure to follow your plastic surgeon's instructions on taking medications and vitamins, eating, drinking and stopping smoking.
What To Expect After Your Breast Reduction
Immediately following your procedure, your breasts will be bandaged. Depending on the degree of reduction, your surgeon may need to use drainage tubes for the first several days. Talk to your doctor about what you can expect. As with breast augmentation in Sacramento, CA, you will likely experience some pain or discomfort and your breasts might occasionally ache during the first couple of weeks. Medication can be used to lessen any discomfort. Although you should avoid strenuous activities – including lifting an pushing of any kind – the first 3 or 4 weeks, you should expect to return to work after about one week (depending on the physical demands of your job). Some patients notice a change in the feeling in their nipples or breasts due to the removal of some of the nerves. Breast reduction does result in permanent scars, which will be positioned so as to be covered by either your bra or swimsuit. If you intend to breastfeed, it's best to postpone surgery as it can reduce the ability to nurse.
Breast Reduction FAQs
Is Breast Reduction Covered by Health Insurance?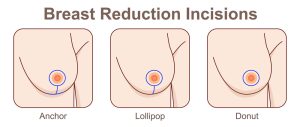 When breast reduction is deemed to be cosmetic, it is not covered by health insurance. However, in cases where a patient has a documented history of significant back, neck and shoulder pain, insurance may cover the procedure. To improve your chances of having breast reduction covered by health insurance, speak to your physician about the chronic pain caused by your breasts so that he or she can note that problem in your official medical record.
Will I Lose Sensitivity in My Breasts?
Many patients experience a change in nipple and breast sensitivity following breast procedures like breast reduction. Sensation can either increase or decrease due to nerves being severed during the surgery. Fortunately, for most patients, this sensitivity returns to its normal state within a few months.
At What Age Can I Have Breast Reduction?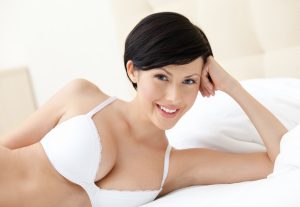 Our plastic surgeons recommend waiting until at least age 18 to have breast reduction surgery. That is the age at which most women's breasts have fully formed. Women who plan to have children in the future may also want to postpone breast reduction because the surgery can potentially interfere with lactation. Furthermore, pregnancy and nursing can alter the size of the breasts.
How Long Do the Results from Breast Reduction Last?
The results achieved by breast reduction surgery are considered indefinite for most patients. The tissue, skin and fat removed during the procedure are gone permanently. However, a woman's breast size may change in the future due to weight fluctuation, pregnancy, nursing and menopause.
Will You Alter My Nipples During Breast Reduction?
Some patients' nipples are repositioned to rest more centrally on the breast for a natural, youthful appearance. Others' nipples remain untouched during the procedure. Your preference on this topic will help determine your surgical plan. If you are dissatisfied with the size, shape or symmetry of your areolas, your surgeon can make the appropriate adjustments during the procedure. Discuss these concerns with your surgeon during your consultation.
Will I Need a Breast Lift after Breast Reduction?
When the surgeons at The Plastic Surgery Center perform breast reduction, they incorporate elements of breast lift into the procedure. In doing so, they ensure that your resized breasts are in an elevated, attractive position so that you should be satisfied with the results.
Does Breast Reduction Pose Any Risks?
While breast reduction is a safe procedure, any surgery carries minor risks. Breast reduction patients should monitor for infection, fluid accumulation and excess bleeding. Please consult a doctor if any abnormal symptoms arise during your recovery.
How Do I Know If I Need Breast Reduction Surgery?
The decision to have breast reduction is personal. You should not feel pressure to have the surgery unless you want to. Conversely, you should not feel pressure to maintain your breasts' current size if they impact your quality of life. If you are uncertain whether breast reduction is the right choice for you, the expert surgeons at The Plastic Surgery Center would be happy to discuss your concerns and options during a consultation.
Call 916-929-1833 now to learn more about medical spa services, facial rejuvenation and cosmetic surgery procedures, such as breast reduction. Sacramento plastic surgeons at The Skin Care Center and at The Plastic Surgery Center make enhancing the body, mind and spirit easy. With offices on Scripps Drive in Sacramento and in Granite Bay, looking and feeling your best is convenient as well.
Be sure to reserve your spot at a Free Seminar hosted by The Plastic Surgery Center in Sacramento and get expert insight into such subjects as breast augmentation and tummy tucks. Or, simply request a consultation online. One of our patient coordinators will contact you soon to help you with questions, appointments, decisions and more.