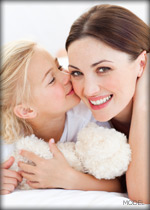 More and more moms are choosing to combine several plastic surgery procedures in a "Mommy Makeover" at The Plastic Surgery Center. Women experiencing the typical post-baby concerns such as sagging tummy skin, drooping breasts, or flabby stomachs can rejuvenate their body contours by choosing a procedure such as liposuction, breast lift, breast augmentation or abdominoplasty at our Sacramento practice.
Restore Your Body and Regain Your Look
From the moment you contact our Plastic Surgery Center, we focus on ensuring in every way possible that we understand your cosmetic desires. Our goal: to customize the perfect procedure to meet YOUR goals!
Our highly trained plastic surgeons meet individually with every patient during the initial consultation. We know that moms often feel fatigued and worn out by their post-baby physical changes, and, in some cases, even more stressed because their rigorous diet and exercise programs aren't achieving the results they desire and deserve.
Relax. Every week we meet with women who have concerns like yours. We discuss in detail with you every Mommy Makeover option you might want to consider, based on your unique needs, from an abdominoplasty, sometimes called a tummy tuck, to breast implants in Sacramento, which can be the ideal solution for women who want to restore lost breast volume.
Understanding Your Mommy Makeover Options
Our surgeons are skilled in combining cosmetic surgery procedures to achieve just the results you want. Here are just a few of the most common procedures performed as part of a Mommy Makeover.
Call 916-569-0861 now to learn more about medical spa services, facial rejuvenation and cosmetic surgery procedures to help you look fantastic. Sacramento plastic surgeons at The Skin Care
Center and at The Plastic Surgery Center make enhancing the body, mind and spirit easy. With offices on Scripps Drive in Sacramento and in Granite Bay, looking and feeling your best with liposuction is convenient as well.
Be sure to reserve your spot at a Free Seminar hosted by The Plastic Surgery Center in Sacramento and get expert insight into such subjects as breast augmentation and tummy tucks. Or, simply request your consultation today and begin working with one of our patient coordinators.