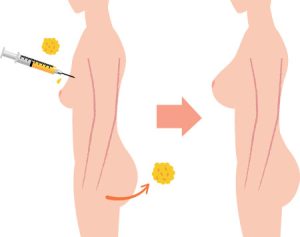 Breast fat grafting augmentation offers an alternative, natural option for women who do not wish to have breast implants. This procedure uses liposuction to harvest unwanted fat from another body area and inject the fat cells into the breasts. Fat transfer for breast enhancement offers a minimally invasive approach with fewer risks. Our board-certified plastic surgeons at The Plastic Surgery Center offer fat grafting breast augmentation in Sacramento and Granite Bay.
Benefits of Breast Fat Grafting Augmentation
Doctors have used fat injections for nearly a century, and research finds fat grafting is a safe and effective way to add volume to the face, breasts, and other body areas. Fat transfer is a powerful tool for correcting breast asymmetry and does not increase the risk of breast cancer.
Your breasts naturally contain a lot of fatty tissue, and adding more fat cells to the breasts provides the same soft, natural look and feel. While breast implants aim for a natural appearance and texture, these artificial medical devices can't compete with your natural breast tissue.
Fat grafting breast augmentation is a less invasive surgery with the additional perk of slimming down a stubborn area, such as the abdomen, thighs, or "love handles." Patients recover faster from fat transfer than breast augmentation with breast implants. Using your fat cells to increase breast size also provides permanent results because the surviving fat cells live indefinitely.
There is no risk of capsular contracture, implant ruptures, or other complications associated with breast implants. Fat grafting breast augmentation does not affect mammogram results like breast implants.
Candidates
Fat grafting breast enhancement is best for women looking for a mild to moderate size increase. The procedure works well for women with a gap in the top of their bra and who want more volume in the upper pole to fill their bra and add cleavage. You must have enough fat to harvest for the procedure. Our plastic surgeons remove more fat than is needed because some fat cells will not survive the transfer. Women with minimal body fat may need breast implants to achieve their desired results.
Candidates for fat grafting must be healthy non-smokers at a stable weight. Weight fluctuations will affect the results. Fat transfer may also be used for breast reconstruction.
Procedure
Fat transfer procedures start with standard liposuction, which involves injecting tumescent fluid containing a mixture of lidocaine and epinephrine into the treated area. The fluid causes fat cells to swell and harden for easier removal. The removed fat is processed in a sterile operating room using a centrifuge to remove impurities and then injected with small syringes into the breast tissue. One of our plastic surgeons will add fat to different tissue layers within the breast to add fullness. The breasts are overfilled initially to account for fat resorption.
One technique for fat grafting breast augmentation uses pre-expansion to maximize results. This method allows for "mega-volume" fat grafting that could double breast size. A bra-like suction device is used for several weeks before the fat transfer to gradually expand the breast to create more room and a fibrovascular scaffold for the transplanted fat cells to fill in. The vacuum device is used another week or two after the procedure to ensure maximum fat survival. In a 2011 study, researchers transferred an average of 300cc of fat per breast, doubling the breast size for most patients involved. One year later, 230cc (8 fluid ounces) survived, compared to 130cc without pre-expansion.
Recovery
The Plastic Surgery Center will provide detailed recovery instructions after fat grafting breast augmentation. Fat grafting recovery is unique because you heal from liposuction and breast surgery. The liposuctioned area may require a compression garment and activity restrictions, depending on the amount of fat removed. Most patients may return to work within a few days to one week, compared to two weeks after breast implant placement. You will have an elastic bandage wrapped around your chest and a surgical bra. These dressings help the fat deposits settle in the breasts.
Results
Fat grafting offers permanent results. It may take up to six months to see the total outcome as the fat settles. Some cells will die or resorb after injection. Most patients are satisfied with their fat grafting breast augmentation results, but some may need a subsequent fat transfer to reach their desired results.
Contact The Plastic Surgery Center in Northern California to learn more about fat grafting breast augmentation. Schedule a consultation by calling our Sacramento office at (916) 929-1833 or our Granite Bay office at (916) 773-5559.