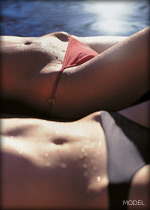 You go through a daily regimen to look your best, because doing so helps you to feel better about yourself. This relationship between the physical and the emotional affects all areas of your life. Knowing this, you decided to lose weight, to eat right and to exercise more. Sometimes – especially after pregnancy – it can prove difficult to regain the silhouette you remember prior to giving birth. Other times, although a healthy lifestyle has helped you to drop pounds from certain areas of the body, a protruding abdomen and "love handles" have proven resistant to your best efforts.
You should know that there are body sculpting procedures that can help. For instance, here in Sacramento, a Tummy Tuck (abdominoplasty) is an extremely popular procedure among both men and women; nationally, it's one of the Top 5 cosmetic surgery procedures. Then, there's Liposuction, which, in 2006, was the Number 1 cosmetic procedure in the country.
Although no plastic surgery procedure is a substitute for exercising and eating right, if you are looking to eliminate stubborn fat from your upper arms, back, abdomen, hips, buttocks or thighs, or to remove sagging skin resulting from multiple pregnancies, weight loss, time or genetics, there are procedures that can help bring a harmonious balance to your life, improving both your look and your outlook.
Call 916-929-1833 now to learn more about medical spa services, facial rejuvenation and cosmetic surgery procedures for both men and women, such as liposuction. Sacramento plastic surgeons at The Skincare & Laser Center and at The Plastic Surgery Center make enhancing the body, mind and spirit easy.
Be sure to reserve your spot at a Free Seminar hosted by The Plastic Surgery Center and get expert insight into such subjects as liposuction and tummy tucks. We also can combine procedures in a single surgery to save time and achieve more comprehensive results, such as performing liposuction and breast augmentation in Sacramento, CA. Or, simply request a consultation online and one of our patient coordinators will soon be in touch to work with you personally.
Body Procedures: