"Look me in the eye." If you were like most kids, your parents probably asked you to do this when you were a child. It's a great way to get to the truth, because regardless of what you say or how you say it, the eyes don't lie; people can read them like an open book. This remains true throughout life. In fact, the only thing that changes when you become an adult is that it becomes a little bit easier for others to read your eyes. And, if you're like most adults, it's getting easier everyday for your family, friends and co-workers here in Sacramento to read between the lines and puffiness.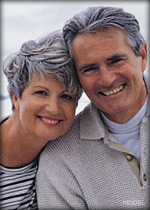 Regardless of the cosmetics you use in an attempt to conceal the truth, the eyes are the central feature of your face and the signs of aging (or genetics) say a lot about you before you even say a word. What are your eyes saying about you? Are they saying that you look older than you really are? Are they saying that you look tired when you're not? You have a say, you know?
If you're considering an eyelid lift, Sacramento's Plastic Surgery Center can help. Call 916-929-1833 to schedule a consultation today.
Eyelid Surgery Overview
Drooping upper eyelids and the puffy bags below the eyes, can age you beyond your years, as well as give you a look of tiredness. An eyelid lift – also known as blepharoplasty – removes excess fat from the upper and lower eyelids (excess skin and muscle may also be eliminated). Easily combined with a Brow Lift, Laser Skin Resurfacing or a Facelift in Sacramento, eyelid surgery can give you a more youthful look.
How a Blepharoplasty Achieves Eyelid Rejuvenation
Eyelid surgery is usually a 1 to 3 hour procedure performed under intravenous sedation with local anesthesia. To minimize scarring, incisions are made along the natural lines of your eyelids; some lower eyelid surgery can even be performed from the inside, so that scars are hidden. Eyelid rejuvenation ultimately results in eyes that are noticeably bigger and brighter, surrounded by smoother, more youthful looking skin. Prior to any cosmetic surgery procedure, be sure to follow your plastic surgeon's instructions on taking medications and vitamins, eating, drinking and stopping smoking.
What To Expect After Your Eyelid Lift
Your eyelids may feel tight and sore as the anesthesia wears off; pain medication can help minimize any discomfort. You are encouraged to use a cold compress and to keep your head elevated to help reduce swelling and bruising. After a few days, swelling should subside and the stitches will be removed. Makeup can be worn to cover any remaining bruises. You will be instructed on how to properly cleanse your eyes and how eye drops can relieve dry, itchy or burning eyes. You might experience greater sensitivity to light and a mild blurring of your vision for several weeks. You are instructed to wear sunglasses and a special sunblock when you are outside, as well as are advised to not wear contact lenses for approximately 10 days. Please be advised that although you should be free to return to work in 7 to 10 days, your activities should be kept to a minimum for at least the first 5 days; avoid strenuous activities for at least 3 weeks. Scars should fade to a thin, nearly invisible line after a few months.
Eyelid Lift FAQs
Are the results of blepharoplasty permanent?
Once fat is removed during eyelid surgery, it will never come back. Blepharoplasty does not freeze time, however; you will experience a normal loosening of skin over the next 10 or 20 years. Eyelid surgery has reset the clock, so that the natural aging process starts with much younger-looking skin.
Because the result is long-lasting, it is important that a surgeon refrain from removing too much skin. The board-certified surgeons of The Plastic Surgery Center favor a conservative approach, excising an amount that is sufficient to give you a relaxed, optimistic look. When too much skin is removed, the resulting side effects may include dry eyes and difficulty completely closing the eyelids.
How do I choose between blepharoplasty and brow lift?
When the main concern is loose skin and an accumulation of fat in the upper and lower eyelids, blepharoplasty is often the best choice. If you are satisfied with the shape and placement of your eyebrow, blepharoplasty may be all you need. Brow lift may be a better choice when your brow is within the eye socket, has lost its natural shape, or you have a pocket of fat or loose skin that involves more than just the eyelid.
What are some of the other alternatives to blepharoplasty?
One alternative to blepharoplasty is to try a dermal filler. Small injections of products such as Juvederm, Restylane or Sculptra can smooth out the skin around the eyes, brightening your look.
Fillers are also an effective way to treat dark circles under the eyes. Loss of volume and thinning skin expose blood vessels under the skin, giving the area a darker appearance. Injecting a dermal filler provides a cushion that compensates for the thinner skin and loss of fat. Dark circles can also be improved by laser treatment, which works by targeting the blood vessels and pigment that are causing the darker appearance under the eyes. Laser is very effective in treating "crepey" skin under the eyes, as well.
In some cases another type of injectable — neuromodulators, such as Botox or Dysport — can be used to relax muscles that are causing wrinkles and volume displacement near the eyes.
Will there be noticeable scarring?
Scars resulting from eyelid surgery are usually minor. Often they are only visible when you close your eyes. When a surgeon makes the upper eyelid incision, it may sometimes also include a small portion of the "crow's feet" area. Even here, the resulting mark will be faint. The thin skin of the eyelid is actually less likely to form scars than thicker skin elsewhere on the body.
When fat is removed from the lower eyelid as part of the surgery, incisions are made in the inside of the lower eyelid, where a scar cannot be seen. Sometimes an incision is also made beneath the eyelash; this thin scar is rarely noticeable. The trusted surgeons of The Plastic Surgery Center are experienced in the precise placement of incisions, and will provide post-surgical care that promotes optimal healing to minimize scarring.
Call 916-929-1833 now to learn more about medical spa services, facial rejuvenation and cosmetic surgery procedures for both men and women, such as an eyelid lift. Sacramento plastic surgeons at The Skin Care Center and at The Plastic Surgery Center make enhancing the body, mind and spirit easy. With offices on Scripps Drive in Sacramento and in Granite Bay, looking and feeling your best is convenient as well.
Be sure to reserve your spot at a Free Seminar hosted by The Plastic Surgery Center in Sacramento and get expert insight into such subjects as breast augmentation and tummy tucks. Or, simply request a consultation and one of our knowledgeable patient coordinators will contact you shortly.