Unshapely ears are not uncommon. Sometimes they are a source of ridicule and embarrassment. With the help of one of our skilled Sacramento plastic surgeons, protruding ears, oversized ears, and ears that are deformed can be permanently enhanced and improved in just a couple hours.
The doctors at Sacramento's Plastic Surgery Center are experienced in ear reshaping for both children and adults. Perhaps you feel your ears would look better a little closer to your scalp, or maybe you feel their size is too large to complement the rest of your features. Whatever the case, our surgeons can offer options to improve the way you look.
If you or your child could benefit from ear reshaping (otoplasty) cosmetic surgery, Sacramento's Plastic Surgery Center can help. Call 916-929-1833 to schedule a consultation today.
Everything You Need to Know about Otoplasty
Ear surgery is usually performed to set back prominent ears closer to the head, or to reduce the size of large ears. In most cases, the cosmetic surgery is performed for children between the ages of 5 and 14; the earlier the better, not only to prevent the sometimes cruel teasings of other children, but because ears are almost fully grown by the age of 5. Generally, there are no increased risks associated with otoplasty on adults.
Infant Ear Reshaping with EarWell™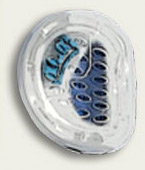 We also offer the EarWell™ Infant Ear Correction System for infants with abnormal-looking ears. Babies born with cup ears, lop ears, or excessively projecting ears ("Dumbo" ears) can be treated with this revolutionary ear molding system. In the past, these children have had to wait until they were 6 to 8 years of age when the ears were large enough to be surgically corrected. Often they suffered from teasing from other children.
With the EarWell system, an infant's abnormal ear can be molded into a normal-looking ear! The molder is soft plastic and is tolerated by babies without any difficulty. The ear molder is placed on the baby's head in the office or hospital nursery in a matter of a few minutes. It is left in place for 2 weeks. It is then replaced in the office with a new molder. This process is repeated for up to 6 weeks. Using the EarWell system can save a child from the embarrassment of teasing by other children, as well as avoiding reconstructive surgery.
The EarWell system needs to be initiated within the first month of life, when the ear cartilage is very soft and "moldable." If you know of an infant with an ear problem, please have the parent contact our office. In most cases, the EarWell system is covered by the child's health insurance!
How Otoplasty Cosmetic Surgery Is Performed
Ear surgery can take from 2 to 3 hours, although if extensive work is required, the procedure might take longer. In most instances, a small incision is made on the back of the ear, where cartilage is then accessed and, ultimately sculpted to a more desirable shape or size. In other cases, cartilage is removed to provide a more natural looking ear. Sometimes, reshaping is achieved by the combination of the removal of skin and stitches to fold cartilage back upon itself. Prior to any cosmetic surgery procedure, be sure to follow your plastic surgeon's instructions on taking medications and vitamins, eating, drinking and stopping smoking.
What To Expect After An Otoplasty
Immediately following the procedure, the head is wrapped in a bandage to promote the desired molding and to expedite healing. You must sleep on your back, propped up on 2 to 3 pillows in order to diminish the amount of discomfort and swelling you may experience. Pain medication is useful in minimizing any discomfort. Stitches either will be removed or will dissolve on their own after about a week. Adults usually return to work 5 days after their otoplasty cosmetic surgery in Sacramento, children usually go back to school after one week.
Call 916-929-1833 now to learn more about medical spa services, facial rejuvenation and cosmetic surgery procedures for both men and women, such as otoplasty. Sacramento plastic surgeons at The Skincare & Laser Center and at The Plastic Surgery Center make enhancing the body, mind and spirit easy. With offices on Scripps Drive in Sacramento and in Granite Bay, looking and feeling your best is convenient as well.
Be sure to reserve your spot at a Free Seminar hosted by The Plastic Surgery Center in Sacramento and get expert insight into such subjects as breast augmentation and tummy tucks. Or, simply request a consultation online and you'll be working directly with your own patient coordinator in no time.
EarWell™ image courtesy of Becon Medical.