Millions of American women have breast implants, and the numbers are growing every day. The fact is, breast augmentation in Sacramento, CA, is the most popular cosmetic procedure for women at our practice. And with the beautiful results we can achieve, it's no surprise.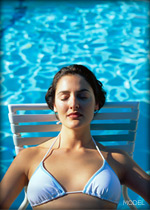 There are many reasons behind the popularity of breast enhancement with implants in Sacramento, Folsom and around the area. Modern breast augmentation is safe; the advanced surgical techniques used today produce minimal scarring and beautiful results. In addition, breast implants are durable and come in many shapes and sizes, allowing women to achieve and enjoy their desired breast appearance for many years.
If you're considering breast augmentation, our Plastic Surgery Center can help. Call 916-929-1833 to request a consultation today.
Is Breast Augmentation Right for You?
Are you unhappy with the size and shape of your breasts? Have your breasts lost volume due to genetics, the natural aging process, weight fluctuations or pregnancy? If so, breast augmentation with one of our talented plastic surgeons may be right for you.
If you are interested in finding out if you are a suitable candidate for the procedure, the first step is to schedule an in-office consultation. During your consultation, our doctors will examine your breasts, taking note of certain qualities including skin elasticity and the amount of breast tissue present. You will also be asked to describe your aesthetic needs and desired outcomes in detail. We encourage you to bring photos of women with results similar to those you seek. It is also a good idea to visit our before-and-after gallery to view pictures of our former breast augmentation patients.
It is also during your initial consultation that our surgeons will determine whether it is safe for you to undergo surgery. They will evaluate your complete medical history, including any existing medical conditions that can increase the risk of complications or interfere with your healing and recovery. Your safety is our top priority; we take every step necessary to ensure your breast augmentation journey is a successful one.
Your Breast Augmentation Treatment Options
If our doctors determine that you are a suitable candidate for breast augmentation, they will go over your treatment options. Breast augmentation can be performed as a solo procedure or in conjunction with breast lift. A breast augmentation with lift combination procedure is appropriate for women who desire fuller, perkier breasts. Breast augmentation can also be performed as part of a mommy makeover. This multi-step treatment consists of two or more plastic surgery procedures that address multiple cosmetic concerns that often occur as a result of pregnancy and breastfeeding. No matter what your needs are, our doctors will work with you to determine the best treatment option for you.
How Breast Augmentation Is Performed
Breast augmentation typically takes about one hour to perform; however, it may take up to three hours to complete if a lift is also performed. Prior to surgery, your surgeon will discuss with you your breast implant options including type (either silicone gel or saline), placement, size and shape. Your surgeon will also discuss the type, size and location of the incisions he or she will use to place the implants.
Prior to any cosmetic procedure, be sure to follow your plastic surgeon's instructions on taking medications and vitamins, eating and drinking restrictions and when to stop smoking.
Your Breast Implant Choices
Type
Breast implants are filled with either saline saltwater or silicone gel. There are advantages and disadvantages to each type. Due to the thick consistency of silicone gel, silicone implants tend to look and feel more like natural breast tissue than saline implants. However, due to the nature of the saltwater filling, leaks and ruptures are immediately apparent with saline implants. This allows women to replace them quickly.
Size
Breast implants come in a variety of sizes. The best size for you depends on a number of factors, including your body type and personal preferences. Our surgeons will work with you to select a breast implant size that fits your needs and goals.
Shape
Breast implants come in round and teardrop shapes. Round implants have equal projection at the top and bottom of the breast while teardrop implants have more fullness at the bottom, mimicking the slope of a natural breast. While teardrop-shaped implants offer the most natural-looking results, they can appear to be misshapen if the implant rotates.
Texture
The surface of breast implants can be either smooth or textured. Textured implants are less likely to rotate (which distorts the shape of the breast). However, some women prefer smooth implants because they feel and move more like natural breast tissue.
Placement
Breast implants can be placed beneath (submuscular) or above (subglandular) the chest muscle. There are pros and cons with each method. With the submuscular technique, there is less risk of capsular contracture and visible rippling. However, the subglandular technique typically involves a shorter recovery and is ideal for patients with enough breast tissue to cover the implant.
Profile
Implant profiles can be either low, moderate or high. Low-profile implants tend to be wider while high-profile implants are narrower.
Incision Technique
There are three main incision patterns your surgeon may use to place your breast implants. The inframammary approach involves placing a horizontal incision underneath the natural breast fold. It is used for both saline and silicone gel implants. Scarring can be easily concealed with clothing. Periareolar incisions are made around the areola. They are mostly used with saline implants. Scarring blends in with the surrounding skin. Transaxillary incisions are placed in the armpits. With this technique, there is no visible scarring on the breasts. It is usually reserved for saline implants.
What to Expect After Breast Augmentation Surgery
Immediately following your breast augmentation surgery, your breasts will be bandaged to promote healing. It's common to feel tired and sore for several days. Within one or two days, your dressings will be removed at your first postoperative visit with us and you might be fitted with a surgical bra. You should expect to take one to two weeks off from work and other regular activities. Your surgeon can advise you on when it is safe to return to work based on the type of work and your personal healing progress.
Some patients experience a burning sensation in their nipples the first few weeks after surgery. Your breasts will be sensitive during this time, so vigorous activities such as exercise are discouraged. You will also need to wear your surgical bra during this time to minimize discomfort and ensure proper healing. Swelling might take several months to fully subside. Scars will remain firm and pink for two to three months, and although they will never completely disappear, they should fade and become barely noticeable over time.
The Sacramento plastic surgeons at The Skincare & Laser Center and The Plastic Surgery Center make enhancing the body, mind and spirit convenient with offices on Scripps Drive in Sacramento and in Granite Bay.
Be sure to reserve your spot at a Free Seminar hosted by The Plastic Surgery Center in Sacramento to learn more about breast augmentation, tummy tuck and mommy makeover. Or, simply request a consultation online or by calling 916-929-1833, and start working with your own patient coordinator who can help you through your decision making process.
Breast Augmentation Frequently Asked Questions
How do I choose a breast implant type and size?
The right implants for you will depend on a variety of factors, including your aesthetic concerns, goals, lifestyle and personal preferences.
To help you visualize your results, your surgeon may have you try on implant sizers available at our office. Our surgery center also has a full inventory of all implant sizes and projections. This gives our plastic surgeons the opportunity to try temporary implants sizers during your actual procedure and then choose the exact implant that fits you perfectly.
What procedures can be combined with breast augmentation?
Breast augmentation is often combined with breast lift to improve both the size and position of the breasts. Ideal candidates for a breast augmentation with lift procedure are women with small and/or deflated breasts with a significant degree of breast sag.
Breast augmentation can also be performed as part of a mommy makeover, a plastic surgery treatment that addresses various pregnancy-related cosmetic concerns. Mommy makeover is tailored to each patient and can include breast augmentation, lift, liposuction and tummy tuck.
When can I exercise after breast augmentation?
Short walks are encouraged during the first few days after surgery to promote good circulation. However, strenuous exercise, including running and other cardiovascular exercises, will be off limits for at least the first six weeks of recovery.
Can I breastfeed after breast augmentation?
Breastfeeding after augmentation is completely safe. However, certain incision patterns may interfere with the milk ducts and your ability to breastfeed properly. If you plan on getting pregnant and breastfeeding in the future, please let your surgeon know so he or she can choose an appropriate implant placement and incision pattern.
What are the possible risks and complications of having breast augmentation?
Post-op side effects include swelling, bruising, breast tenderness and soreness. Rare but possible risks include infection, poor wound healing, capsular contracture and loss of nipple sensitivity. Your surgeon will explain all risks and complications with you prior to surgery.
How long do results last?
When performed by an expert plastic surgeon, the results of breast augmentation can last many years. Factors like future weight gain, pregnancies, sun protection and smoking can affect the longevity of your results.
What is the cost of breast augmentation?
The cost of breast augmentation varies from patient to patient. The type of breast implants used and whether a lift is incorporated are some of the factors that will determine the cost of your procedure. The Plastic Surgery Center offers breast augmentation financing. Contact a member of our team to learn more about the options we offer.