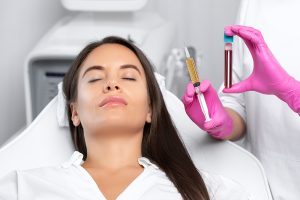 Cosmetic treatments continue to expand and offer innovative ways to restore a youthful complexion and address common skin concerns such as acne scarring and other skin damage. The Vampire Facial at The Plastic Surgery Center combines two minimally-invasive treatments designed to jumpstart your body's healing properties: platelet-rich plasma and microneedling.
How Platelet-Rich Plasma Works
Your blood contains white blood cells, plasma, red blood cells and platelets, and each component serves a purpose. The platelets found in your blood regenerate damaged tissues and increase cell growth. PRP treatments isolate these platelets by drawing your blood and using a centrifuge for 10 minutes to separate the elements and achieve concentrated platelet-rich plasma. The concentrated PRP is spread on the face before microneedling or injected afterward to increase wound healing and regenerate tissues.
Platelet-rich plasma is an excellent way to improve or restore your skin's texture and address discoloration, volume loss, signs of aging and other cosmetic concerns. PRP treatments offer fewer risks than other cosmetic treatments because there's no risk of an allergic reaction. After all, the platelet-rich plasma is found in your blood cells.
Vampire Facial Combines PRP with Microneedling
Microneedling creates thousands of micro-traumas in the skin to push your body to produce more collagen and heal the treated area, reducing the appearance of lines and wrinkles, scarring and other skin damage. The series of superficial punctures in the skin can deliver a noticeable improvement in tone and texture on its own. PRP and microneedling are complementary procedures that enhance your potential results with the vampire facial, a term coined because the PRP is taken from your blood.
Together, these cosmetic treatments can significantly improve your skin's texture and tone by utilizing your body's natural wound healing response to repair the tissues on a cellular level and increase collagen and elastin in the face. You can achieve a smoother, tighter skin texture with increased volume for an overall youthful appearance.
Our plastic surgeons typically recommend three to four treatments spread four to eight weeks apart to achieve your desired results. A vampire facial is a great option for several common skin issues, including scars, wrinkles and sun damage.
Is the Vampire Facial Right for You?
If you struggle with signs of aging or skin concerns, microneedling and PRP treatments may be right for you. Contact The Plastic Surgery Center in Sacramento and Granite Bay to learn more about the vampire facial. Call our offices at (916) 929-1833 to meet with one of our board-certified plastic surgeons.