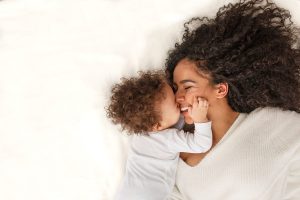 Women face immense pressure to lose baby weight and return to their pre-pregnancy body shape. However, your body needs time to heal after growing a new life for nearly 10 months. The uterus contracts and your breasts go through many changes whether or not you choose to breastfeed. While a healthy diet and exercise can help you through the postpartum phase, there are some residual issues women face many months and years after giving birth. A mommy makeover can help you achieve your pre-baby figure and address those issues that won't budge with lifestyle changes alone.
What Is a Mommy Makeover?
At The Plastic Surgery Center in Sacramento, our board-certified plastic surgeons offer the combination plastic surgery known as the mommy makeover. The procedure typically includes a form of breast surgery and one or more body contouring options, but is customized to your troublesome areas. Whether you struggle with large breasts from hormonal changes or have experienced significant breast drooping and deflation after pregnancy, breast reduction, breast augmentation or a breast lift can give you a proportionate, perkier bust.
Liposuction and tummy tuck are other plastic surgeries involved in a mommy makeover. Some women struggle with diastasis recti, in which the abdominal muscles stretch and separate, and core building exercises cannot address this issue. A tummy tuck tightens these muscles for a flatter stomach, and liposuction removes those stubborn pockets of fat you've been unable to eliminate naturally.
The Time-Saving Benefits of a Mommy Makeover
Women with children do not have ample time on their hands. The mommy makeover allows you to reach your goals for your breast and body faster than you would if the procedures were spaced months or years apart. By combining breast surgery, liposuction and a tummy tuck, you can achieve your pre-baby figure with a streamlined approach and one-time recovery.
In addition to reaching a slimmer figure with youthful breasts in less time, a mommy makeover saves you from paying surgical expenses such as anesthesia costs and facility fees multiple times. If you're done having children, in good overall health and diet and exercise have failed to deliver your desired results, you may be a good candidate for the mommy makeover.
Contact The Plastic Surgery Center in Sacramento today to schedule your consultation and learn more about your options for restoring a pre-pregnancy body shape.