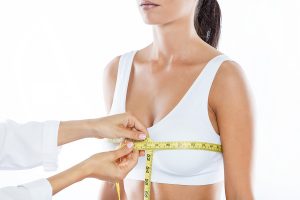 Many young women struggle with the impact of macromastia (overly large breasts). Breasts that are too big for a woman's body frame cause significant pain and discomfort, which can worsen over time as gravity weighs down the chest, and breast tissue grows. Exercising and finding clothing that fits correctly is challenging and can be especially troublesome for young women in their late teens who wish to fit in with their peers.
Our board-certified plastic surgeons offer breast reduction and can help you determine if the procedure is right for your symptomatic macromastia. Many women find that breast reduction provides life-changing results and significantly decreases or eliminates their chronic pain. Breast reduction removes excess skin and breast tissue, elevates the nipples and tightens the skin for a bust that is proportionate to the rest of the body.
What is Symptomatic Macromastia?
The effects of large breasts may at first be limited to inconvenience with specific activities and clothing, but as time goes on, painful symptoms may arise as the excess weight pulls on the spine and affects the musculoskeletal system. These symptoms include chronic neck, back and shoulder pain. Women may experience pain in the chest wall, headaches, shortness of breath and numbness or tingling of the hands. Poor posture is a common concern, and macromastia can also interfere with sleep. The skin-to-skin friction of the breasts can cause skin rashes and infections, and bra straps may dig into the skin, causing uncomfortable grooves and indentations.
Women with breasts too large for their frame may find that heating packs, physical therapy and anti-inflammatory medications ease mild symptoms. However, non-surgical treatments typically fail to offer permanent or adequate relief. Severe and persistent issues caused by macromastia often require breast reduction. Breast reduction can make a woman feel like a new person, with a balanced figure that allows them to exercise, wear their desired clothing and reduce macromastia symptoms.
The breast reduction procedure can improve sleep quality, headaches, skeletal stability, lung function and chronic pain.
Satisfaction Rates in Breast Reduction Patients
A 2012 study evaluated the satisfaction rates and symptom improvement of reduction mammoplasty (breast reduction) patients. The survey included responses from 99 women who had the procedure between 1985 and 2005 for symptomatic macromastia. These women were under 21, with an average age of 19 at the time of their breast reduction. Their responses showed a dramatic improvement in quality of life (88.7 percent), as follows:
94.7 percent saw long-term shoulder pain improvement, and 92 percent reported little to no breast pain.
88.6 percent said their skin rashes and infections were gone.
42.4 percent reported complete symptom relief, with 93.9 percent stating the procedure improved their pain by at least 50 percent.
95.9 percent said they would choose to have the procedure all over again.
The long-term follow-up results show that breast reduction can improve the quality of life for young women 16 to 20 years old.
Schedule Your Breast Reduction Consultation in Sacramento
If you struggle with macromastia symptoms, contact The Plastic Surgery Center today to schedule your consultation with one of our board-certified plastic surgeons in Granite Bay and Sacramento.