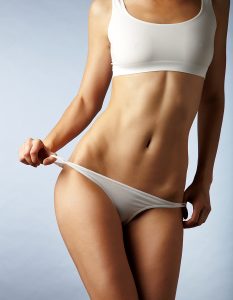 Every body shape is unique, and genetics and other factors can limit our ability to tone certain areas. Body contouring procedures, such as tummy tuck, liposuction, CoolSculpting and mommy makeover, are customized to each patient's needs. Our board-certified plastic surgeons in Sacramento and Granite Bay can determine which of these body contouring options will help you reach your dream figure.
Benefits of Tummy Tuck
People who undergo tummy tuck struggle with excess skin tissues, residual fat pockets and loose abdominal muscles after significant weight loss or pregnancy. Tummy tuck removes loose skin and tightens the underlying muscles to strengthen the core. The procedure can improve low back pain, posture, stress urinary incontinence and ventral hernias that often happen after pregnancy and weight loss. Tummy tuck may also eliminate stretch marks. Patients can enjoy a flatter, leaner contour and better-fitting clothing with their new body shape after tummy tuck.
Benefits of Liposuction
Liposuction is strictly a fat removal procedure and does not address skin laxity. This body contouring option is best for people with localized, stubborn fat at or close to their goal weight. Lipo can remove fat cells from most body areas — from under the chin to the ankles — and offers dramatic results. The fat is removed with a cannula (hollow tube) and is gone permanently. The remaining fat cells can expand if you gain weight in the future, but your weight gain will likely be more proportionate. Liposuction may be a great option if you have unwanted fat and good skin elasticity.
Benefits of CoolSculpting
CoolSculpting is a non-invasive body contouring option at The Plastic Surgery Center. It's an alternative to traditional liposuction that freezes and kills fat cells through cryolipolysis, and your lymphatic system naturally filters the fat out of your body. There's no recovery needed and no needles, incisions or scarring with CoolSculpting. While CoolSculpting comes with fewer risks than invasive surgery, results can take time, and you may require multiple treatments to reach your desired results. CoolSculpting is ideal for minimal areas of unwanted fat in the abdomen, back, thighs, bra-strap area, buttocks, knees and under the chin.
Benefits of Mommy Makeover
Mommy makeover combines multiple plastic surgeries to restore your figure in one procedure. Tummy tuck, liposuction and breast surgery target the changes caused by pregnancy to give you back your pre-baby body. The all-in-one plastic surgery gives you the benefit of one recovery, reducing your overall risk of undergoing multiple procedures and healing each time. You can reach your body goals faster with mommy makeover.
Learn More About Body Contouring in Sacramento
If you're interested in improving your figure with a body contouring procedure, contact The Plastic Surgery Center in Granite Bay at (916) 773-5559 or Sacramento at (916) 929-1833 to schedule your consultation.