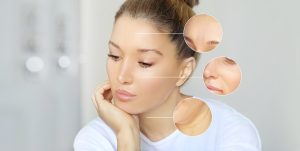 Dermal fillers and other injectables can improve the appearance of most facial areas, and each product is designed and FDA-approved for specific applications. The right dermal filler for your needs depends on the area of the face, the type of cosmetic concern and the option recommended by our team of board-certified plastic surgeons. We can match you with the injectable that will best address your cosmetic issues, such as volume loss, lines and wrinkles and even a double chin.
Dermal Fillers and Treatment Areas
Dermal fillers are formulated to address aesthetic issues with the surface layer and deeper skin tissues of your face. The forehead and eyebrow area will require a different injectable than the under-eye area, with thinner, more delicate skin. Volume loss or scarring in the cheeks and wrinkles in the lower face will be treated independently. Our plastic surgeons may recommend using more than one type of dermal filler if you have aesthetic issues with multiple facial areas.
The Right Dermal Filler by Type of Concern
Finding the best dermal filler also depends on your specific concern. If you struggle with volume loss or acne scarring in your cheeks, a collagen-stimulator filler, such as Sculptra, may fit your needs. Static wrinkles and dynamic wrinkles are treated uniquely. Dynamic wrinkles are formed from years of facial expressions and respond best to neuromodulators, such as Botox.
Hyaluronic acid dermal fillers, such as Juvéderm and Restylane, can improve static wrinkles that form on the skin's surface due to natural aging. The aging process affects the fat pockets in your facial tissues, causing them to shrink and sink lower in the face. Fillers can improve that volume loss by restoring fullness, whereas fat accumulation under the chin can be eliminated with the deoxycholic acid injectable Kybella.
Why Choose a Plastic Surgeon For Your Dermal Filler Treatment
The structures of your face are intricate. The medical professional who injects your dermal filler needs to understand the facial anatomy and have experience working with these complex tissues. Our plastic surgeons are board-certified by the American Board of Plastic Surgery and know how to expertly inject dermal fillers to safely and effectively achieve your desired results. We know the applications for Juvéderm, Restylane, Sculptra, Kybella and other injectables and will evaluate your aesthetic concerns to match you with the right product for your needs.
It's critical to your results and safety to choose a board-certified plastic surgeon for your dermal filler treatment. Some injectables require allergy testing.
If you're interested in dermal fillers, contact The Plastic Surgery Center in Granite Bay at (916) 773-5559 or Sacramento at (916) 929-1833 to schedule your consultation. Our plastic surgeons may be able to perform your treatment during your initial appointment.