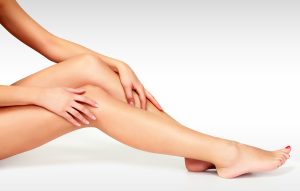 Removing hair via shaving, waxing or tweezing is time-consuming, uncomfortable and costly when you factor in the lifetime expenses of these products and services. Laser hair removal is one of the most common cosmetic treatments in the United States. At The Plastic Surgery Center, we use the LightSheer laser to reduce or eliminate unwanted hair with technology five times faster and more comfortably than competing lasers.
Laser hair removal uses a concentrated light beam that targets pigmented hairs. The dark hairs absorb the energy and damage the hair follicles (tube-shaped sacs that grow the hair) to delay and prevent hair regrowth.
Laser hair removal is effective with long-lasting results. However, due to the three stages of hair growth, you will need multiple treatments and maintenance sessions later on to control the unwanted hair.
Stages of Hair Growth
Your hair grows in three stages, and only hair follicles in the active growth stage will respond to laser hair removal, so your treatment sessions are spaced apart to target all follicles.
Anagen Phase: This is the "active" phase where a hair follicle creates a new shaft of hair. Only 20 percent of your hair is in the anagen phase at one time.
Catagen Phase: During the second stage, which lasts 10 to 20 days, the hair regresses, causing growth to slow and the follicles to shrink.
Telogen Phase: Hair growth is resting during the telogen phase. The hair stays in the follicle until a new anagen hair pushes it out, which lasts about 100 days in areas such as the scalp and even longer for the arms, legs and eyelashes.
Your Laser Hair Removal Treatment
Treatments at our Sacramento or Granite Bay offices take anywhere from 15 minutes to one hour, depending on the area. It's an outpatient process with minimal discomfort, and you can return to everyday activities right away. Our plastic surgeons and medical spa team use one of two handpieces to pass over the area with unwanted hair. The skin is sucked into the device, stretching the skin and bringing the follicle close to the laser energy. The light emitted from the LightSheer laser targets the darker hairs (blonde, red or gray hairs don't respond to the treatment) and destroys the follicle to stop re-growth.
It's essential to have a skilled medical professional perform your laser hair removal treatment. The Plastic Surgery Center has helped countless patients reduce hair growth. We believe in using only the best technology for optimal results, patient comfort and safety.
If you're tired of shaving, tweezing or waxing, contact our Sacramento office at (916) 929-1833 or our Granite Bay office at (916) 773-5559 to schedule an appointment.