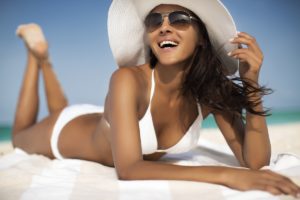 The Plastic Surgery Center is pleased to offer a "cool" non-surgical treatment for people struggling with stubborn body fat. Patients no longer need to undergo surgery to get rid of unwanted fat — they can see results after a quick, in-office CoolSculpting procedure.
Below, our plastic surgeons answer some of the most frequently asked questions about CoolSculpting.

How does CoolSculpting treat unwanted fat?
CoolSculpting uses cryolipolysis technology to freeze and destroy targeted fat cells on the abdomen, back, hips, thighs, male chest area or underneath the chin. In the weeks and months following treatment, the destroyed fat cells die and are eliminated from the body through normal waste removal processes. The result is a slimmer and sleeker looking contour in the treated area!
What are the benefits of CoolSculpting?
Benefits of CoolSculpting include the following:
Permanent reduction of unwanted fat
Non-invasive treatment
No anesthesia
No needles
No downtime
No scars
Can treat multiple areas of the body in a single session
What happens during a treatment session?
During a treatment session, the CoolSculpting device is pressed against the selected area of the body. The skin is drawn into a cup with mild pressure and the device begins to cool the area. The device is slowly moved over the entire treatment area to target the unwanted fat cells.
When can patients resume their normal routine after a treatment session?
Patients can immediately resume their regular activities after a CoolSculpting session. There is no downtime involved.
Is CoolSculpting treatment painful?
No. Patients may experience an intense cold sensation at first, but this should subside after a few minutes. There may also be mild pinching or pulling sensations during the treatment.
What are the risks of CoolSculpting?
The risks of CoolSculpting are minor compared to surgical procedures like liposuction. There is a slight risk of contour irregularities but this is rare.
When can patients see results after CoolSculpting?
Initial results may be seen about three weeks after the initial treatment, continuing to improve for a few months. Some patients are advised to have multiple treatments in order to see optimal results.
Are the results of CoolSculpting permanent?
Once the destroyed fat cells are eliminated from the body, they do not return. However, significant weight gain can cause the remaining fat cells to enlarge, possibly jeopardizing the results of CoolSculpting. The best way to enjoy CoolSculpting results long term is to maintain a healthy diet and exercise regularly.
Contact The Plastic Surgery Center
If you have additional questions about CoolSculpting, please feel free to call or email our office today.