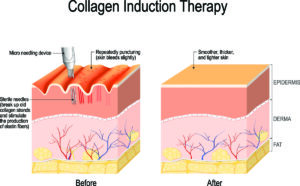 Men and women often struggle with the appearance of aging skin. September is Healthy Aging® Month, and The Plastic Surgery Center can help you improve visible signs of aging with non-surgical treatments, such as microneedling. Microneedling offers a better skin tone and texture with a minimally invasive procedure for all skin tones. Our Sacramento and Granite Bay offices offer radiofrequency (RF) microneedling with PiXel8-RF technology.
How Does RF Microneedling Work?
Traditional microneedling induces collagen induction therapy by creating hundreds of micro-traumas in the skin. Collagen is one of the primary proteins in the skin that provides a firm, supple, and youthful skin appearance. The tiny holes formed with the microneedling device stimulate the body to create new collagen for less noticeable wrinkles or scars and an even skin texture and tone. RF microneedling improves these results by adding heat energy for more skin remodeling. The tiny needles of the handheld device are equipped with PiXel8-RF technology to heat the treated area and activate more collagen and elastin cells.
RF microneedling with PiXel8-RF produces smoother, firmer skin with more comprehensive collagen improvement than microneedling alone. Treatments typically take 30 to 40 minutes. The state-of-the-art technology can be adjusted for more sensitive areas, such as under the eyes and along the forehead.
What Can RF Microneedling Treat?
PiXel8-RF microneedling can treat a variety of skin concerns on the face and body, including:
Acne scars
Surgical scars
Dark spots
Melasma
Large pores
Loose or sagging skin
Stretch marks
Uneven skin texture
Skin discoloration
Fine lines and wrinkles
Hand rejuvenation
RF microneedling is often the preferred approach for skin concerns in people with darker skin. Darker skin tones are more at risk of hyperpigmentation with more invasive skin treatments, such as laser skin resurfacing. RF microneedling with PiXel8-RF technology can significantly improve skin concerns, especially with a series of treatments.
When Will I See Results with RF Microneedling?
Patients enjoy long-lasting improvements with fading stretch marks, reduced scars and wrinkles, and refreshed hands. RF microneedling results appear gradually as the body produces new collagen and tightens the deep skin tissues. You will see some improvement within a few weeks of your treatment, with full results a few months later. We recommend a series of RF microneedling treatments for moderate to severe skin concerns for the best results. Annual maintenance sessions and sun protection are recommended for long-term improvement.
If you're interested in RF microneedling, contact The Plastic Surgery Center to learn more. Schedule a consultation at our Sacramento, California office at (916) 929-1833 or Granite Bay, California office at (916) 773-5559.