Are you vain? "They" might say you are. "They" say that people like you who elect plastic surgery are indeed vain. "They" obviously don't know what it's like to feel uncomfortable in clothes that show off their legs. "They" obviously have never experienced that feeling of heaviness in the legs that weighs you down. "They" obviously have no idea that your legs actually ache. The fact is, "they" shouldn't have a say in what you do; the good news is, they don't. The better news is that there are light and laser treatments right here in Sacramento that can eliminate varicose and spider veins. There's absolutely nothing wrong with wanting to look and feel better – to look and feel your best. There's nothing vain about vein therapy.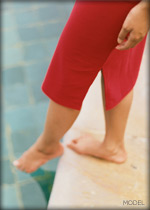 If you're considering varicose or spider vein therapy, Sacramento's Plastic Surgery Center can help. Call 916-569-0861 to schedule a consultation today.
Everything You Need To Know – And More – About Vein Therapy
Spider and varicose veins can be the result of hormones, pregnancy, prolonged sitting or standing, tight fitting clothes, injury, excessive sun exposure, genetics, weight gain or age. Although neither the red, dark blue or purple spider veins nor the painful, swollen varicose veins pose any real short- or long-term health threat, if they cause you to be self-conscious about your legs, they can influence both what you wear and what activities you take in, resulting in a reduced quality of life. With light or laser treatments in Sacramento at The Plastic Surgery Center, vein therapy is allowing women – and even some men – to again love their legs.
Today, state-of-the-art light and laser treatments can eliminate, in just minutes, those swollen and painful veins that you thought you'd just have to learn to live with. To treat smaller surface veins, light energy is absorbed by the blood within the offending vein, where it is then converted to heat, which ultimately destroys the vein. For deeper veins, laser light is also absorbed by the blood within the vein, where again it is converted to heat, which causes the blood to clot, destroying the function of the vein. Over time, the destroyed vein is reabsorbed by the body, disappearing from sight. Both procedures are brief and require no use of needles.
Although spider and varicose veins can appear anywhere on the body, one thing is certain – at The Plastic Surgery Center in Sacramento, vein therapy can make them disappear.
Call 916-569-0861 now to learn more about medical spa services, or 916-929-1833 for facial rejuvenation and cosmetic surgery procedures for both men and women, such as laser vein treatments. Sacramento plastic surgeons at The Skincare & Laser Center and at The Plastic Surgery Center make enhancing the body, mind and spirit easy. With an office on Scripps Drive in Sacramento, looking and feeling your best with varicose and spider vein therapy is convenient as well.
To find out more about how we can help you look and feel your best, why not request an appointment with our medical spa team right now? Also, be sure to reserve your spot at a Free Seminar hosted by The Plastic Surgery Center in Sacramento if you'd like to learn more about subjects such as breast augmentation and tummy tucks.