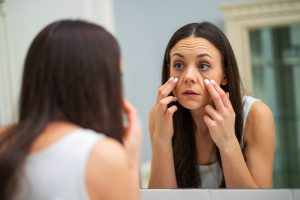 It's frustrating when you get good rest night after night but still look tired in the mornings. You may get comments from loved ones or coworkers saying you look exhausted, and no matter how much concealer you apply to those undereye bags, they still look puffy.
The natural aging process combined with lifestyle factors could be the culprit behind your fatigued look, and no amount of sleep can restore the awakened appearance of your youth. The Plastic Surgery Center in Sacramento offers surgical and non-surgical options to eliminate the cosmetic issues making you look tired.
Wake Up Your Eyes Through Eyelid Surgery
The eyes are typically the first part of your face to show signs of aging. Wrinkles may settle in at the outer edges of your eyes (crow's feet), and your eyelids may sag and develop under-eye bags. Loose, sagging skin in the eyelids can progress and impair your vision. These eye changes all make you appear tired, and despite their promises, eye creams can't turn back time.
Blepharoplasty, or eyelid surgery, removes the loose skin tissue and repositions the underlying muscles of the upper and lower eyelids to give you a refreshed appearance. The procedure reduces eye wrinkles and under-eye bags and the hooded effect of sagging eyelids. Sometimes eyelid surgery is medically necessary if drooping eyelids affect your ability to see.
Eliminate a Tired, Angry Appearance with a Brow Lift
Horizontal lines on your forehead can make you look worried and tired. Throw in the vertical lines (frown lines) between your eyebrows, and you could look angry in your everyday life simply due to signs of aging. The brow tends to droop and exacerbate sagging upper eyelids, adding to your weary appearance. This laxity can also impact your vision.
A brow lift surgically elevates the eyebrows and softens wrinkles between the brows and across the forehead.
Non-Surgical Treatments for an Awakened Appearance
Injectables and other cosmetic treatments are a non-surgical way to address looking tired. Botox is FDA-approved to treat the areas associated with a sleepy appearance. This injectable neuromodulator works by immobilizing the muscles responsible for forming crow's feet, forehead lines and frown lines. Botox can reduce these signs of aging for three to four months at a time.
Dermal fillers can restore lost volume in the under-eye trough to improve darkness and bags. These injectables can last six months up to two years, depending on the product. Other cosmetic treatments such as platelet-rich plasma, laser skin resurfacing and chemical peels can brighten your complexion.
Contact The Plastic Surgery Center About Your Tired Appearance
You don't have to settle for appearing tired in your everyday life. Contact our Sacramento office at (916) 929-1833 to schedule a consultation with one of our board-certified plastic surgeons.