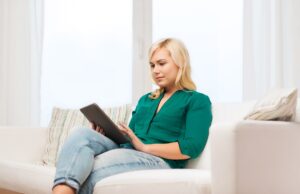 Although it is a cosmetic procedure, a tummy tuck is still surgery. That means it will take a while to recuperate and heal. Preparing your home beforehand allows you to relax and focus solely on your recovery. The surgeons at The Plastic Surgery Center recommend doing the following to get your house ready for the days following a tummy tuck.
Stock Up   
If you are recuperating on your own with no one to shop or cook for you, stock up on frozen meals you can easily stick in the microwave. You may want to prepare some meals ahead of time and freeze them to use while convalescing.
Buy all the necessities you need ahead of time, such as paper towels, toilet paper, coffee and the like so there is no need to go to the store or even to the front door if you order online.
Clean Up
Give your house a thorough cleaning prior to your surgery. You might want to hire a cleaning service to perform those extra tasks you might otherwise forego. Do your laundry, wash and change the bedding and take out the garbage and recyclables so you don't have to worry about that right after your procedure.
The Right Height
While recovering from tummy tuck surgery, you will not have the ability to reach upward or downward to any extent. That means placing objects you will need at the proper height. Run through your daily schedule and put everything you will need for eating, grooming, and entertainment on a countertop or other easily accessible spot.
Night Prep
Night is an especially vulnerable time for those recovering from surgery. Pain medications can cause disorientation and wooziness. Focus on safety when doing night prep for your home.
That may include installing night lights so you do not trip on your way to the bathroom. Put on your nightstand all of your medications and other items that you will want within immediate reach. It's wise to purchase all of the medications and other items you will need for recovery ahead of time so they are available upon your return.
Keep your body elevated while trying to rest. Plenty of pillows will help.
Pets and Kids
Children and pets bring special consideration. If your spouse or partner isn't always available, arrange other types of childcare. Keep in mind that you cannot lift your child —or pet — for a few weeks post-tummy tuck.
Arrange for someone to walk your dog or board your pets for several days while recuperating. If you don't have someone who can clean the cat litter, consider buying a self-cleaning litterbox. The waste eventually needs removal, but not on a daily basis. Leave pet food in an easily accessible place so no reaching is required.
For More Information, Contact The Plastic Surgery Center
If you would like more information about tummy tuck, what to expect and how to prepare yourself and your home for your recuperation, please contact us to request a consultation with a member of our team. We will answer all of your questions and address any concerns.