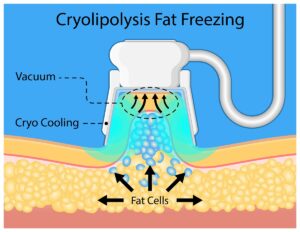 At The Plastic Surgery Center, we have helped countless patients enjoy a slimmer and sleeker body contour without undergoing surgery. Thanks to a breakthrough non-invasive treatment called CoolSculpting, our patients can get rid of unwanted fat and feel more confident. CoolSculpting is highly sought-after because it provides noticeable improvement with little to no pain, downtime or side effects.
If you are considering shaping your body with CoolSculpting, you may be interested to learn about the treatment timeline. In this post, our plastic surgeons explain how long it usually takes to see results from treatment.
Understanding How CoolSculpting Works
CoolSculpting is a non-invasive procedure that can be conveniently performed right in our office. It usually takes an hour or less, and there is no downtime. You can immediately resume your normal daily activities after your treatment appointment.
CoolSculpting leverages the power of cryolipolysis, a technique that uses targeted cooling to freeze fat cells. Fat cells do not like cold temperatures, and when they reach a certain temperature, they freeze and die. Once the fat cells die, your body naturally eliminates them. All of this occurs without harming the surrounding tissues or skin.
CoolSculpting is FDA-cleared to treat unwanted fat on the abdomen, flanks, thighs, buttocks and back. It can also be used to reduce fat along the jawline or underneath the chin. One or more treatment areas can be targeted during the same session.
What to Expect After CoolSculpting
The results of CoolSculpting do not appear immediately. The process of flushing the frozen fat cells from the body takes a total of between one and three months (sometimes more).
You should start to see an initial improvement in the treated area or areas approximately three weeks after your CoolSculpting treatment. The area(s) should look slimmer, sleeker and more contoured. Depending on the size of the treatment area and the number of areas treated with CoolSculpting, you may need a series of sessions.
Final results can be seen several months after the last treatment session. CoolSculpting results in an average of 20 to 25 percent fat reduction in the treated area.
Can Fat Cells Grow Back?
CoolSculpting provides lasting improvement to the treated area. Once your body eliminates the frozen fat cells, they cannot grow back. As long as your weight remains stable, you can enjoy your CoolSculpting results indefinitely!
If you have additional questions about the CoolSculpting timeline or the overall treatment experience, our plastic surgeons are here to help. Please contact us to request a consultation with a member of our team.