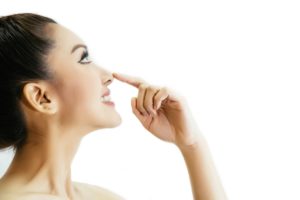 Rhinoplasty is one of the most challenging — and rewarding — procedures that plastic surgeons offer. Unlike other plastic surgery procedures, which primarily focus on improving appearance, a well-performed rhinoplasty can have cosmetic and functional benefits. Read on as the team at The Plastic Surgery Center explains what rhinoplasty can improve.
Change the Size, Shape or Proportions of the Nose
Rhinoplasty is a good option for people that are unhappy with the size, shape or proportions of the nose, or bothered by a specific feature of the nose. The surgery can accomplish the following:
Reduce an oversized nose
Straighten a crooked nose
Change the angle of the nose
Narrow a wide nose
Restore symmetry to an asymmetrical nose
Bring the nose into better proportion with the rest of the face
Reshape the nasal tip
Reduce a bump on the bridge of the nose
Narrow the nostrils
Repair Nasal Deformities from an Injury or Accident
The nose is the most frequently injured part of the face, and even a minor trauma can cause aesthetic and functional defects. Rhinoplasty can be performed to reconstruct the nose after a nasal injury (e.g., broken nose) or accident. It can also fix (some, not all) old nose injuries. And, it can correct congenital nasal deformities.
Address Structural Problems that Interfere with Breathing
It is also possible for rhinoplasty surgeons to correct structural problems within the nose that interfere with breathing function, while making cosmetic improvements. For example, the surgeon can straighten a deviated septum to open up blocked nasal passages for easier breathing function and a more attractive nose.
Making Decisions about Rhinoplasty
If you are considering rhinoplasty, you should meet with a plastic surgeon to discuss your goals. The surgeon can examine your nose and facial features and advise whether rhinoplasty is appropriate for your case. They can describe the changes they would make during surgery and how those changes would improve your appearance.
When looking for a prospective surgeon, make sure you limit your search to qualified, board-certified plastic surgeons that have performed many rhinoplasty procedures and have great before-and-after pictures. Because of the procedure's complexities, it should only be left to the most knowledgeable and experienced plastic surgeons.
Contact Our Team
To schedule a rhinoplasty consultation with our board-certified plastic surgeons at one of our convenient locations, please call or email The Plastic Surgery Center today.