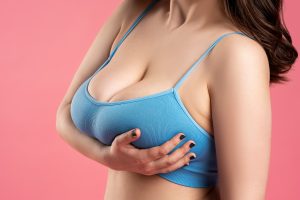 Gravity, age, weight fluctuations, pregnancy and breastfeeding can all cause breasts to sag. One option for patients who want to improve the appearance and position of their sagging breasts is breast lift surgery (also called mastopexy). During breast lift, excess skin is removed, the breast tissue is lifted and tightened, and nipples can be repositioned and reshaped if desired.
Patients have a number of different options when it comes to breast lift surgery techniques. The best option will depend on the severity of the sagging breasts and the needs of the patient. There is no such thing as a breast that is too saggy for a lift. Here, the team at The Plastic Surgery Center, serving Sacramento and Granite Bay, explain how the severity of sagging breasts affects breast lift surgery.
What Is Breast Ptosis?
Breast ptosis is the medical term for sagging of the breasts. The degree of breast sagging is described using a ptosis scale, which assesses the breast according to the relative position of the nipple to the inframammary fold (a.k.a., the crease at the bottom of the breast where it meets the torso). Ptosis can be described as mild, moderate, severe or pseudoptosis.
During your consultation, your plastic surgeon will evaluate your breasts to determine whether breast lift is an option and if so, which technique will best suit your needs. The plastic surgeon may also discuss complementary procedures to breast lift, such as breast augmentation. Below are the four main types of breast lift techniques. Your plastic surgeon will be able to tell you which is best for your sagging breasts.
Lollipop Lift
As its name suggests, the lollipop lift utilizes an incision that resembles a lollipop. During the procedure, the surgeon cuts around the areola and down to the breast crease. It is often used for patients requiring a moderate amount of lift.
Donut Lift
The donut lift utilizes two incisions around the areola. It is best for patients with mild to moderately sagging breasts.
Anchor Lift
The anchor lift utilizes a lollipop incision with the addition of a horizontal incision along the breast crease. It is best for severe sagging.
Crescent Lift
A crescent lift provides the least amount of scarring but is only used for mild breast sagging. The lift technique utilizes an incision around the top half of the areola.
Discuss Your Breast Lift Options With The Plastic Surgery Center
Are you ready to discuss your breast lift options with an experienced plastic surgeon? Contact our Sacramento, California office at (916) 929-1833 or our Granite Bay, California office at (916) 773-5550 to schedule a consultation.