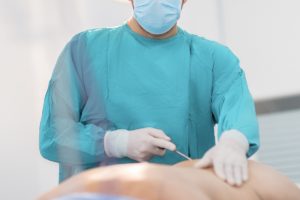 Although liposuction and CoolSculpting both reduce unwanted areas of fat around the body, the procedures are very different. Each has its own set of pros and cons, which you should weigh carefully before making any decisions.
In this post, the team at The Plastic Surgery Center covers the differences between liposuction and CoolSculpting.
Liposuction At a Glance
Traditionally, liposuction has been the gold standard of body fat removal for areas such as the abdomen, hips, thighs, buttocks and arms. The surgical procedure is usually performed on an outpatient basis under general anesthesia or local anesthesia with sedation. During the procedure, the surgeon creates several tiny incisions in the treatment area. Through the incisions, the surgeon inserts a hollow tube and moves it back and forth to break up unwanted fat. Then, the fat is suctioned through the tube from the body.
Pros:
Safe when performed by a board-certified plastic surgeon
Produces noticeable results
Can remove a larger volume of fat than non-surgical alternatives
New technology and techniques continue to make treatment safer and more precise
Results can be seen as soon as the swelling subsides
Cons:
Requires anesthesia
Requires several weeks to recovery
Post-operative side effects (e.g., bruising, swelling) can be uncomfortable
CoolSculpting at a Glance
In the past few years, CoolSculpting has emerged as a safe and effective non-surgical fat reduction method. The in-office treatment exposes unwanted fat to controlled cooling. The low temperatures freeze the fat cells, which die and are filtered from the body via the waste elimination process. Like liposuction, CoolSculpting can be used on many areas of the body, including the abdomen, back, thighs, flanks and underneath the chin.
Pros:
Does not require surgery
Does not require anesthesia
Can be completed during a single office visit
Little to no downtime or discomfort
No needles, incisions or scarring
Cons:
Has not been around as long as liposuction
Can't remove as much fat as liposuction
Takes longer to see the desired results
Schedule a Consultation with The Plastic Surgery Center
The best way to determine the right procedure for your needs and goals is to consult in person with our talented plastic surgery team. Please call or email The Plastic Surgery Center today to request an appointment.