This 28-year-old stay-at-home mother of four was unhappy with some of the changes her body had undergone after childbearing. Her breasts appeared droopy and uneven, and she was also dissatisfied with her abdomen area. Her main goals were to restore lost breast volume, improve breast symmetry, and reduce the size of her areolas while keeping scarring to a minimum. To find out how plastic surgery could help her regain her pre-baby body, she made an appointment with one of the leading Sacramento plastic surgeons, Dr. Scott Green, who has offices in both Roseville and Sacramento.
After discussing many options, this patient decided to undergo a Mommy Makeover, and I performed a tummy tuck to refine her waist as well as a breast enhancement procedure to restore the volume her breasts lost after pregnancy. I also performed a minimal-scar breast lift (a "donut" mastopexy) to improve the position of her breasts while preventing the scarring that a full-scale breast lift would typically create.
Because of her significant loss of breast volume and very low amounts of fatty tissue below the skin, I selected silicone gel implants, placed partially below the chest muscle to ensure a more natural contour. For her abdominal area I used a microcannula technique to liposuction the flank areas and performed a short-scar mini abdominoplasty (tummy tuck) to flatten and reduce the excess skin and fullness in her lower abdomen with a short scar kept hidden below the line of her bikini or underwear. These techniques help ensure a smoother result, while at the same time preventing obvious scarring.
To improve breast symmetry I placed a 500cc silicone gel implant in her right breast and 400cc one in her left breast. The donut mastopexy I performed limited the incisions strictly to the areola, which allowed me to reduce her areola size and improve breast symmetry at the same time.
Postoperatively, this mother now wears a 34D bra, and as her photos show, her new shape is much more symmetrical, smooth, and attractive. Her areolas are also very well balanced, and although her breast lift incisions were located around the nipple, her areolas look beautifully smooth. She is happy to have her pre-baby body back and very pleased with the results of her Sacramento breast augmentation.
Before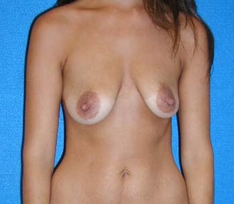 After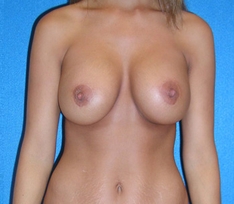 Before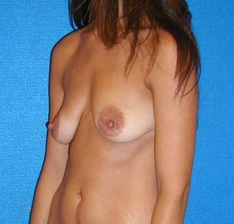 After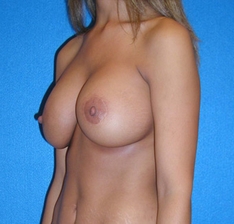 Before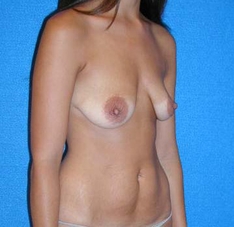 After