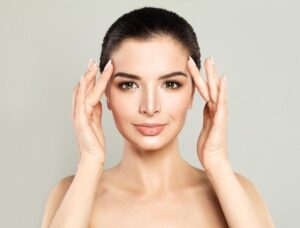 It is not surprising that so many patients seek surgical procedures to restore vitality, buoyancy and youthfulness to the face. Our facial image is what we show to the world in social situations, and the way we share emotions with others.
It's also not surprising that lines around the eyes and across the forehead are a particular concern. In cases where patients are seeking effective remedies for lines and wrinkles on the upper face, the question often becomes: Should I choose brow lift or blepharoplasty? Here, the experienced surgeons of The Plastic Surgery Center compare the procedures, and suggest when each may be appropriate.
Brow Lift
Brow lift targets sagging brows and forehead wrinkles. During the procedure, a surgeon lifts forehead skin and the brow area to smooth out lines and eliminate the tired (or even angry) look that sagging skin may have produced. If "hooding" of your upper eyelids was caused by loose skin in this area, brow lift will also improve the appearance of skin around the eyes.
Brow lift will also improve the appearance of crow's feet, frown lines and deep lines on the forehead, but not completely erase them. With your brow newly elevated and the skin tightened, you will find yourself raising your brows less often, which is what causes forehead lines.
Eyelid Lift
Eyelid lift, or blepharoplasty, reduces bagginess from lower eyelids and removes excess skin from upper eyelids. It improves sagging, thinning and discolored skin under the eyes with a permanent, surgical solution that tightens the skin surrounding the eyes, and raises drooping eyelids. Weary expressions are brightened into a fresh, optimistic look. Unlike brow lift, blepharoplasty will not change the position of your eyebrow.
Whichever procedure you choose, it is important for your surgeon to focus on achieving optimal symmetry in the brow area. Always look for a surgeon who has performed a procedure many times, and keeps abreast of the latest techniques and medical best practices. An experienced plastic surgeon will take a comprehensive approach; not simply stretching the skin, but also paying attention to the muscles and ligaments under the skin, and how each surgical change affects overall balance and proportion.
If you would like to know more about brow lift or blepharoplasty, we invite you to schedule an appointment in our Sacramento or Granite Bay office with one of our experienced surgeons. Contact The Plastic Surgery Center today.