Expression lines – they're inevitable, right? After all, every day you laugh, smile, cry, frown, squint, whistle a happy tune while you walk or work…Over time, there will be consequences from all that display of emotion, right? Right. Lines are going to form, and there's nothing you can do about them, right?
Wrong. You can take action with BOTOX or Dysport(a new botulinum toxin A product), administered by registered nurses Shelley Wright and Rachael Frazier, and overseen by Sacramento plastic surgeons at The Skincare & Laser Center. So, don't worry, be happy, because you have options when it comes to reducing wrinkles.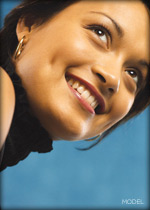 If you're considering Dysport or BOTOX Cosmetic, Sacramento's Plastic Surgery Center can help. Call 916-569-0861 to schedule a consultation today.
Everything You Need To Know – And More – About BOTOX and Dysport
In 2002, BOTOX Cosmetic received approval from the United States Food & Drug Administration (FDA) for the temporary treatment of moderate to severe frown lines between the brows in men and women between the ages of 18 and 65. Since then, it has been safely used in millions of procedures to effectively reduce crow's feet and vertical and horizontal folds on the forehead. In the process, it became the No. 1 plastic surgeon-administered cosmetic medical procedure in the U.S. And, for good reason – because it works!